Redemption, sort of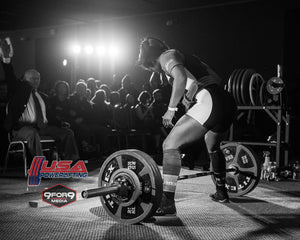 At this point everyone should know that my meet on July 16th didn't go as planned..
So in order to put myself in a good position going into nationals I needed…more like a ..wanted to do another meet. 
However, this time with a whole different game plan 
Goals of last meet:500 wilks and 1000+ total. Goal of this meet: simply to ensure a spot in the prime time session at nationals. 
After doing some research I concluded that a qualifying total of 950+ should safely get me there. 
My coach and I  decided not train specifically for this meet since in the grand scheme of things, Nationals is the only meet that matters. So to make sure my meet prep for nationals did not get effected..Training was programmed accordingly. So there was no peaking or tapering for the meet which was fine by me. 
August 6th Meet recap
8/9 attempts
Squats (3/3): 285, 308, 325.2-lbs
Bench (2/3): 192, 204, 209-lbs [missed]
Deadlift (3/3): 385, 426, 440.9-lbs
Total: 970 lbs
Squat = 11 lb meet PR
Bench = 18 lb meet PR
Deadlift = .9 lb meet PR
Wilks: 478
Got first overall. Highest wilks for squat, deadlift, and total. Won $750 not to shabby. 
My thoughts: 
Positivity: I'm extremely happy that I had a successful meet; more like a sense of relief. Im glad that I accomplished what I needed to accomplish on that day and I'm proud that I was able to put together a solid performance without any special preparation. A 970 total is a mer fraction of what I wanted in July but it is a 30 lb meet PR Which I should be happy with considering .. 1. 2 hour weigh in 2. Stricter judges 3. Stiff bar. So 970 lb total in Usapl is overall more impressive than any other total that I could've gotten in another federation 
On the flip side: A 970lb total doesn't make my heart warm up inside. It doesn't reflect my training from February to August and it damn sure doesn't reflect what I'm capable of doing. Last meet humbled meet in the fact that I appreciate the small victories. However, I lift to set goals and smash them. Doing something I've never done before makes me smile.
Currently 10 weeks out from nationals. There's so much work to do and progress to be made. Hard work never killed anyone! Just going to keep my head down, stay focused, and put in whatever work is necessary to put together a performance that I'm truly proud of.
Stay tuned.